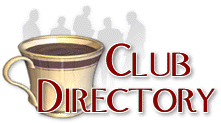 This directory lists over 2300 clubs related to Antiques and Collectibles
Click here to register your club -- Its FREE!
Find a club by name, starting with the letter:
A B C D E F G H I J K L M N O P Q R S T U V W X Y Z Other


Association of American Military Uniform Collectors
Publications: Quarterly: Footlocker
Contact: Membership
Website

The ASSOCIATION OF AMERICAN MILITARY UNIFORM COLLECTORS was founded early in 1977 by a small group of collectors of American military uniforms who felt the need to work together to improve their personal collections and themselves by exchanging their ideas and knowledge. As a group, AAMUC (pronounced "amuck" is dedicated to the collection, preservation and study of American military uniforms.
The group's primary activity at this time is the publication of the FOOTLOCKER which is a quarterly newsletter full of member-written articles and advertisements. The articles are generally concerned with the collecting field in general and with the preservation and restoration of military clothing. Other articles may cover identification of militaria. Book and museum reviews are also included from time to time.

A one-year membership in AAMUC is available at a cost of $20.00 and multi-year memberships are available at the same cost annually. This entitles the member to four issues of FOOTLOCKER and the right to publish up to four ads, as is outlined below, each year. In addition, each member will receive a detailed membership list coded to indicate each member's specific collecting interest. Membership lists are updated biannually.